Generate Required Certificates: 
Install OpenSSL and generate a private key and a digital certificate

using the command line terminal.

First, create one folder called 'JWT' and open the terminal with this folder path.

Run the below commands in the terminal. 

Pass key: 

CMD: openssl genrsa -des3 -passout pass:Biz_JWT -out server.pass.key 2048

Private key generate:

CMD: openssl rsa -passin pass:Biz_JWT -in server.pass.key -out server.key

Generate server certificate:

CMD: openssl req -new -key server.key -out server.csr

Note:

This command takes input, so enter valid details.

Generate x509 certificate:

CMD: openssl x509 -req -sha256 -days 365 -in server.csr -signkey server.key -out server.crt 

Generate public key:

CMD: openssl x509 -pubkey -noout -in server.crt  > pubkey.pem

After executing the commands above, 5 files are generated:

pubkey.pem, server.crt, server.csr, server.key, server.pass.key
Connected App with a certificate
:
Go to the Setup in Salesforce.

Type 'App' in the Quick Find Box.

Select App Manager.

Click on

'New Connected App'.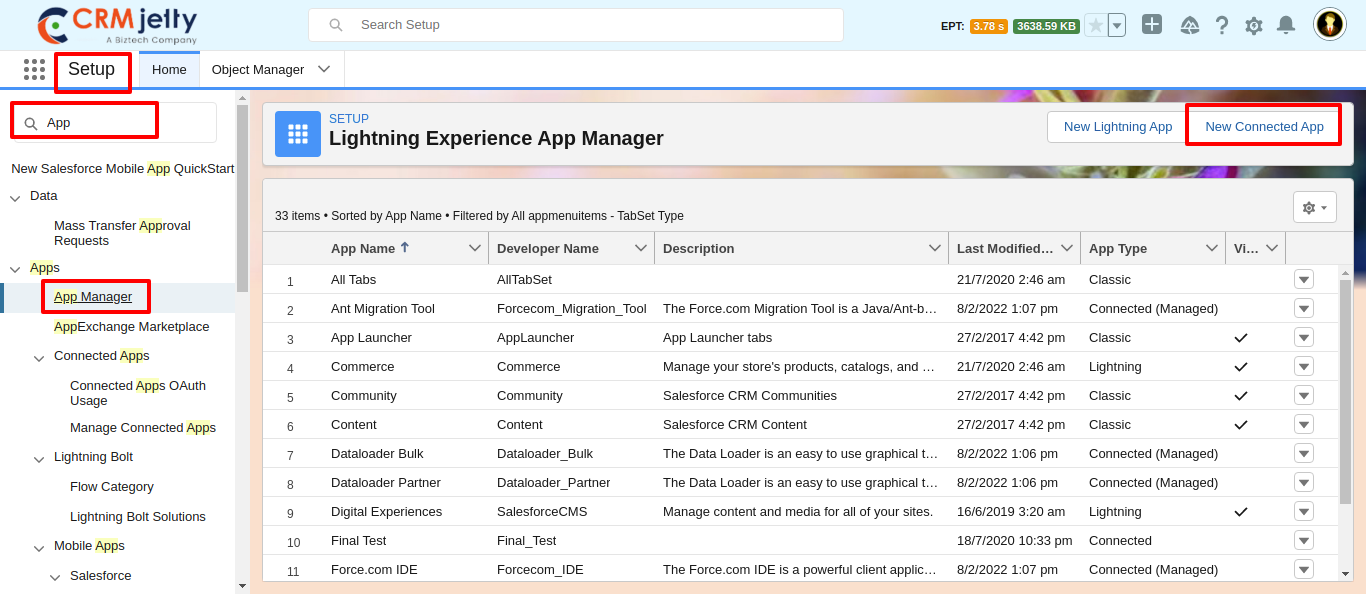 Enter 'Connected App Name', 'API Name', and 'Contact Email' in Basic Information Section.

Select Enable OAuth Settings Checkbox.

Enter '

https://login.salesforce.com/oauth2/callback

' in Callback URL.

Select Use digital signatures Checkbox.

Click on Choose File and Select '

server.crt

' generated in the above step.

In Selected OAuth Scopes Drag the '

Manage user data via APIs (api), and Perform requests at any time (refresh_token, offline_access)

' From Available OAuth Scopes to Selected OAuth Scopes.

Select Require Secret for Web Server Flow and Require Secret for Refresh Token Flow Checkbox.

Click on save.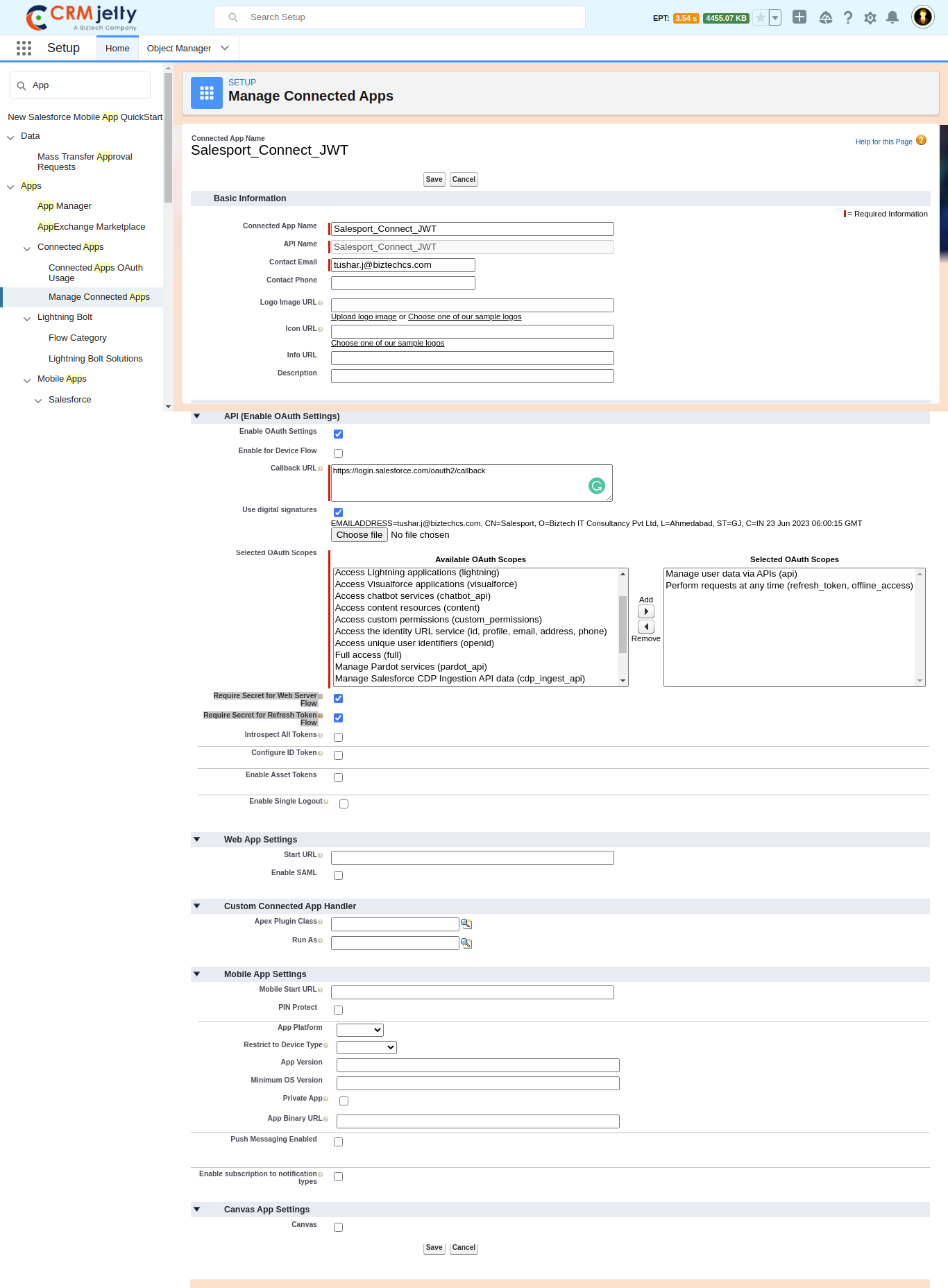 Click on the Manage button to edit the policies.

Click on the Edit Policies and on 'OAuth Policies' Select '

Admin approved users are pre-authorized

' in Permitted Users. 

In IP Relaxation Select 'Relax IP restrictions' and In Refresh Token Policy Select the 'Refresh token is valid until revoked' radio button.

Click on save.

In Profile Section, Click on manage profiles. Select the system administrator profile and save.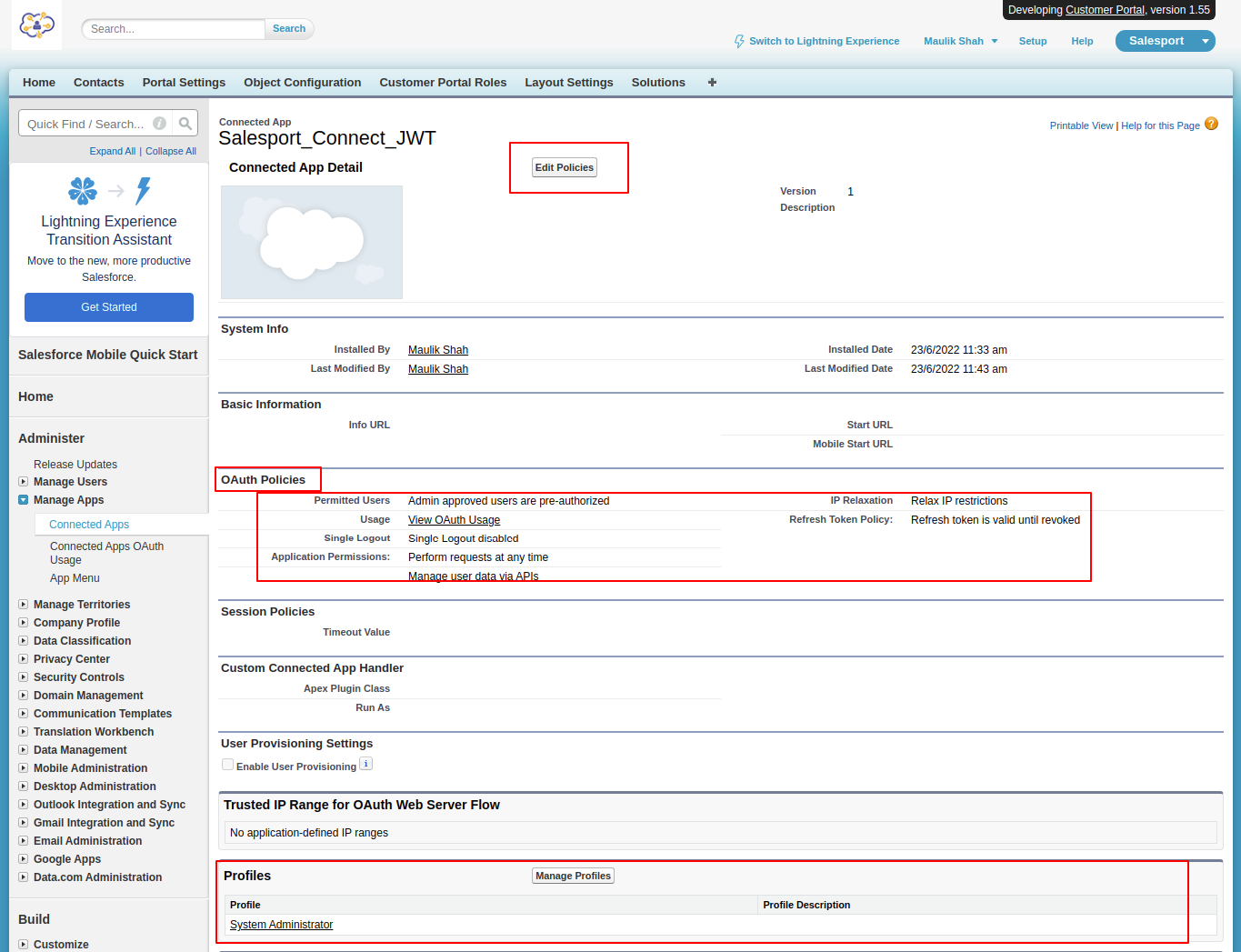 After clicking on the 'Manage Consumer Details', get the Consumer Key and Consumer Secret.