The admins can enable the two-factor authentication in the portal by following the below instructions. 
Login to Backend 
Design ➤ Page Builder ➤ Login, you will land on the "Login" page. Now click on the "Configure Widget" icon shown in the image below and you will get the widget configuration details.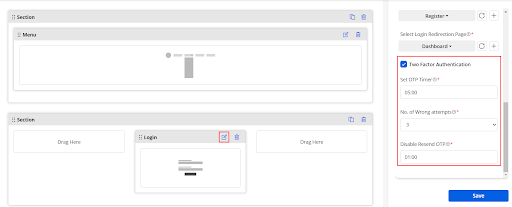 Two Factor Authentication: Tickmark this field to enable the Two Factor Authentication. 
Set OTP Timer: Set the timer for which the OTP is considered valid.
No. of Wrong Attempts: Enter the number of attempts a user can enter the wrong OTP.
Disable Resend OTP: Set the time for which the resend OTP option will be disabled. 
After entering all the details click on the "Save"  button and Publish the page to save the configuration in your portal.