Admins can make the configurations for sending emails to the form respondents. Here is how you can configure it in your portal. 
Login to Backend 
Navigate to the Design ➤ Page, you will get the list of Pages. Now open the page and enable send the email to the form respondents for which you need to send the email.
Select Page: Select a page from the drop-down list to redirect the user to the selected page. You need to select record links from the Select Page that will convert into the page link which is sent in an email, and it will redirect the form submitter to the selected page. 
Select Email Template: Select an Email Template from the drop-down to send an Email with those template details. 
The email template is according to the selected form's entity, in case of the parent-child relationship form, the template will be according to both the entities.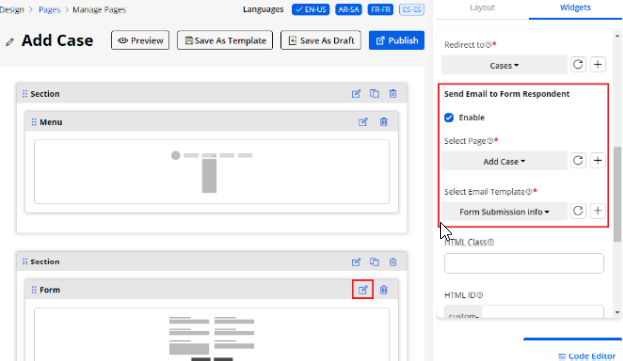 Note: If the page is Add type (to create a new record), only then an Email respondent setting will be shown in the form widget configuration.
If the page is also selected for the Before Login, the Email field must be in the form details that will be used to send the Email. 
For the After Login, the portal users will get the Form respondent mail with the form details in the Email that is used for the logged in.