Yes, you can define the access of pages to users before and after login. Here is the information you should know if you want to create a new page.
Page access can be defined while creating the new page. Follow the below information to do so:
1. Title: Insert the title of the page.
2. Page URL Slug: Once you insert the title, the slug will be suggested. You can edit the URL slug.
3. Page Access: Select the option for the page would be shown 'before login' or 'after login'. If you want to provide the public access of any page (module), select 'before login' else select 'after login' so that the portal users will get the access once they login.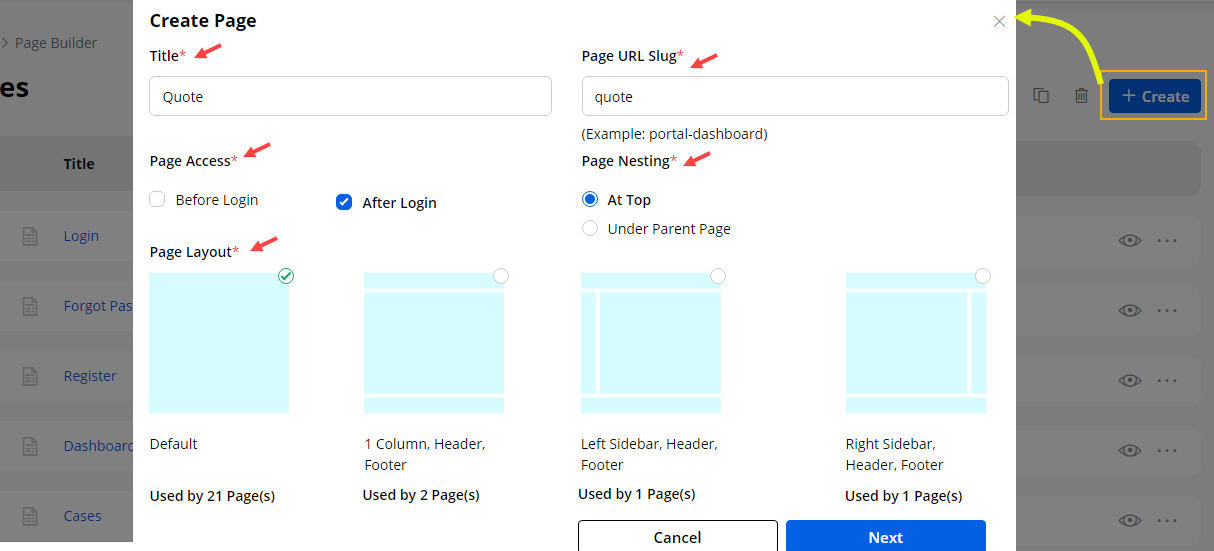 4. Page Nesting: Select whether it is the parent page (At Top) or someone's child page (Under Parent Page). Select the page as 'parent' or the created pages will be listed under any parent page if you have selected the 'Under Parent Page'.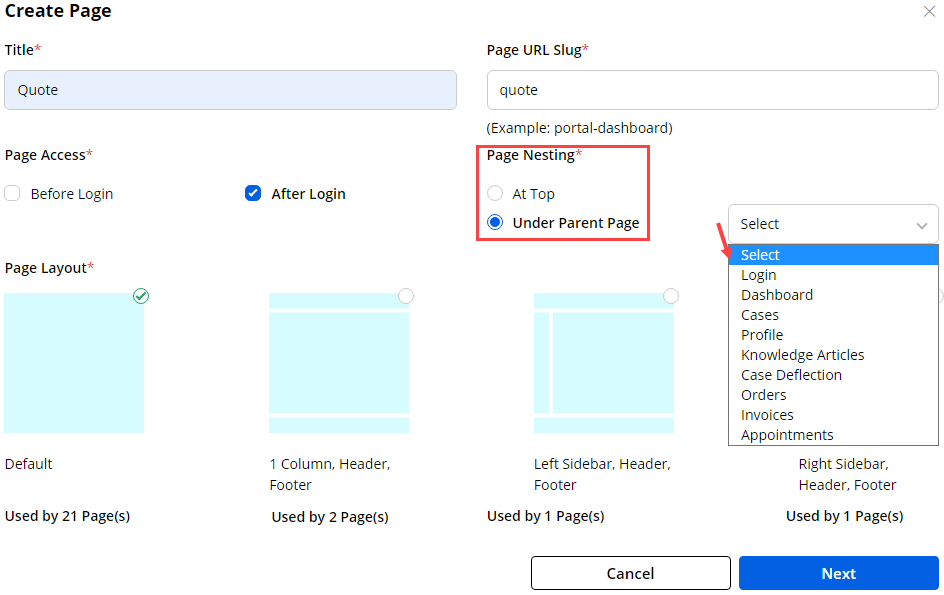 5. Page Layout: You will get the ready-made page builders to design the page layout as per requirement, else you can select the Default Page Layout.
Now, click on the "

Next

" button to design the page layout and you will navigate to the "

Page Layout

" settings.

Under the "Layout" tab, the different layouts (body) are provided to manage the page layout in that and display the portal content as you want it to be displayed.

Drag and drop any layout from right to left Body part.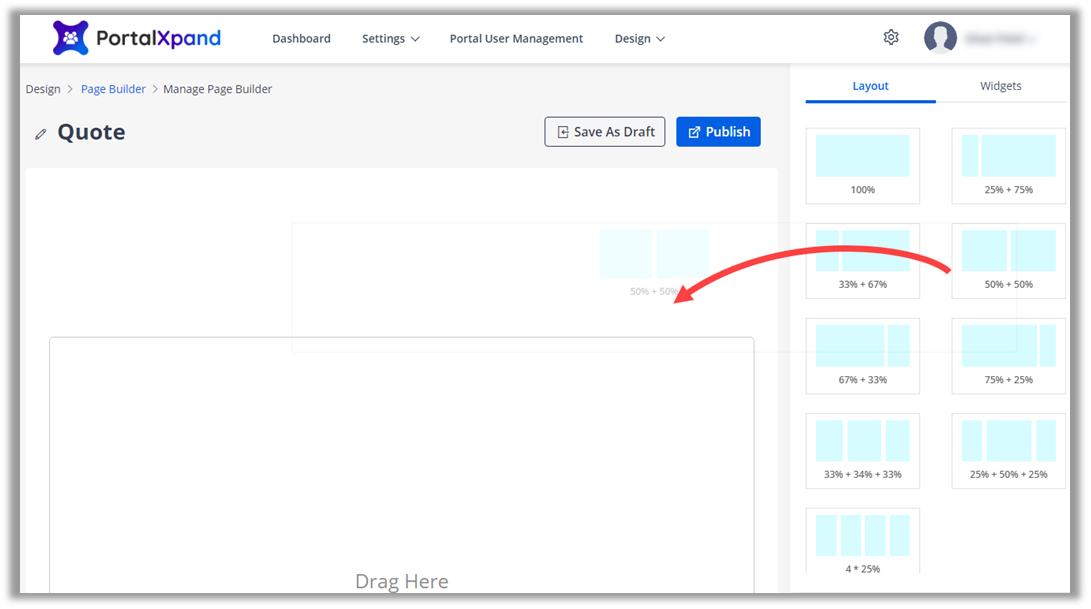 You can also select the Custom Page Layout as per your requirement.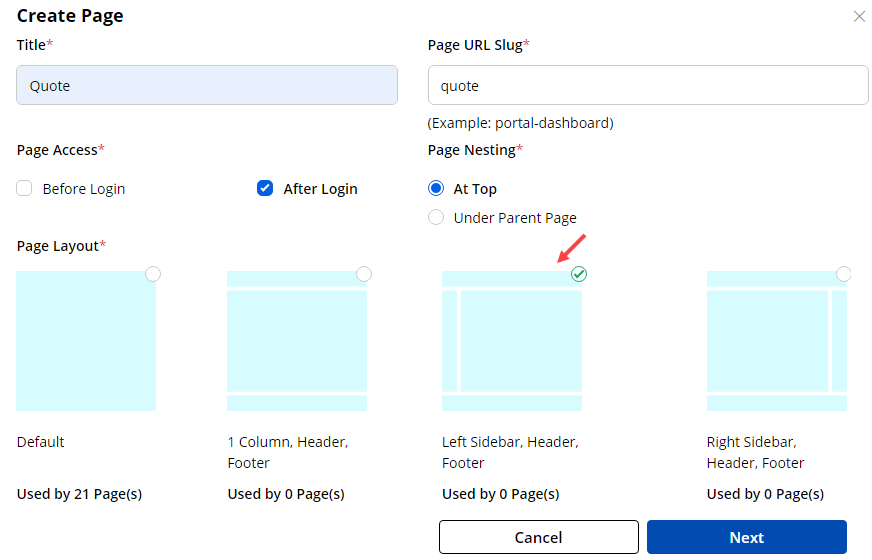 If you have selected the Custom Page Layout, the custom layouts will be added under the Page layout design.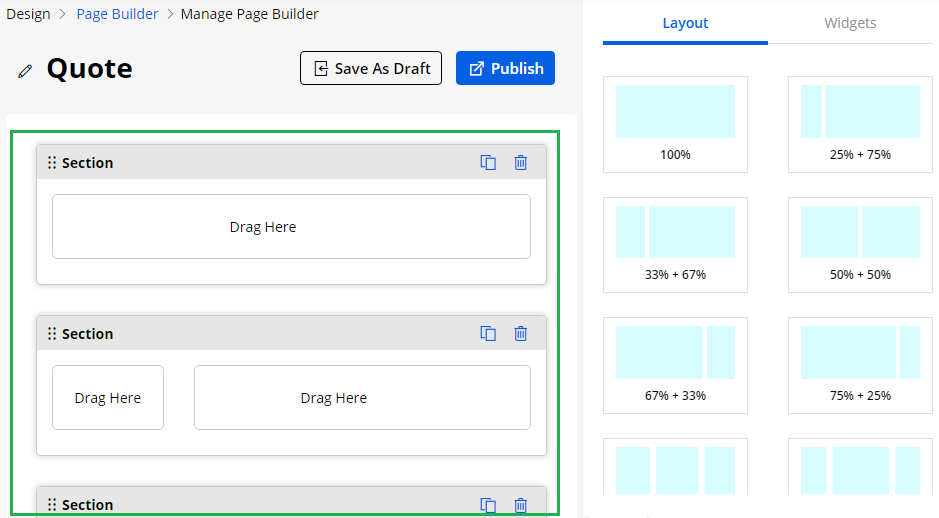 Now, click on "

Widgets

" to add the page layout content for a specific page to the page layout grids.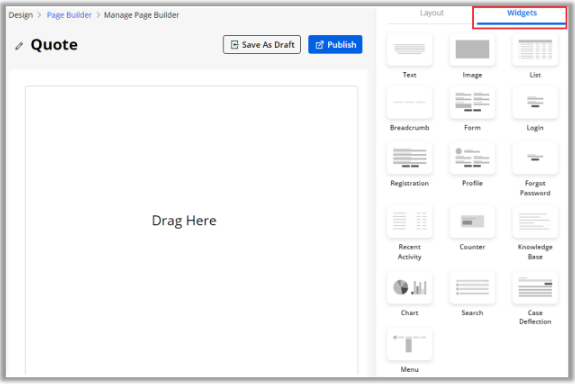 Some Predefined Widgets provided to set the page layout content are:
Text

Image

List

Breadcrumb

Form

Login

Registration

Profile

Forgot Password

Recent Activity

Counter

Knowledge Base

Charts

Search

Case Deflection

Menu
After configuring all the details press the "Publish" button, to publish the page. If you have selected "After Login" in the Page Access field, then the users can access after logging in or else before login.